This panel is available when using an XR license
When adding a virtual set extension to an XR setup, matching the colors of the LED walls to the AR graphics manually is tedious. A variety of components in the video chain have an impact on the output colors
the XR render machine

the Display Processor for the LED wall

the LED wall itself

the on set lighting

the camera

the AR render machine
The color matching panel does the whole calibration for you. Just follow the steps listed below.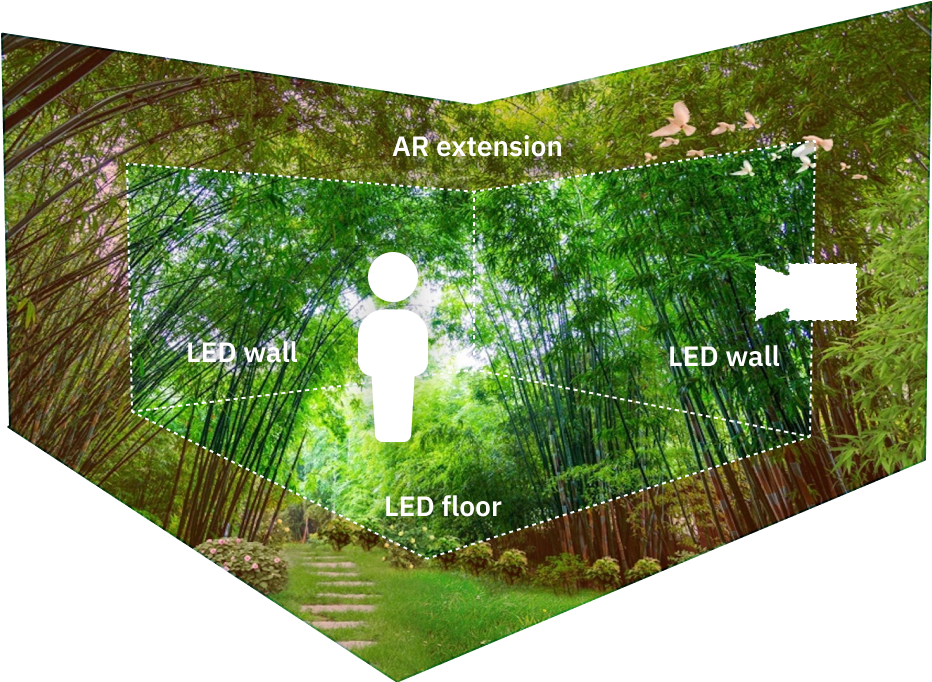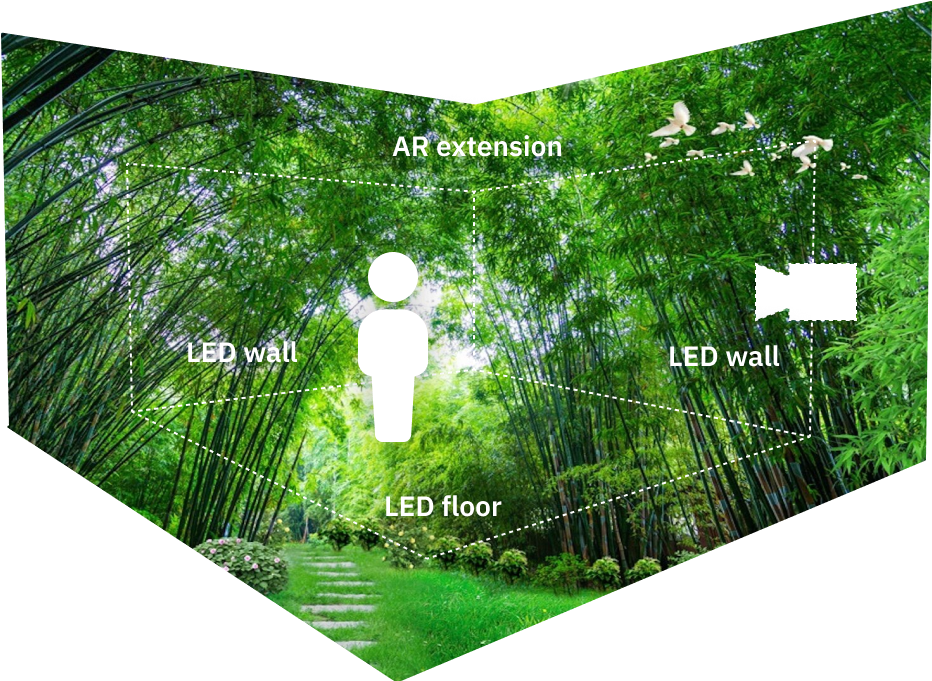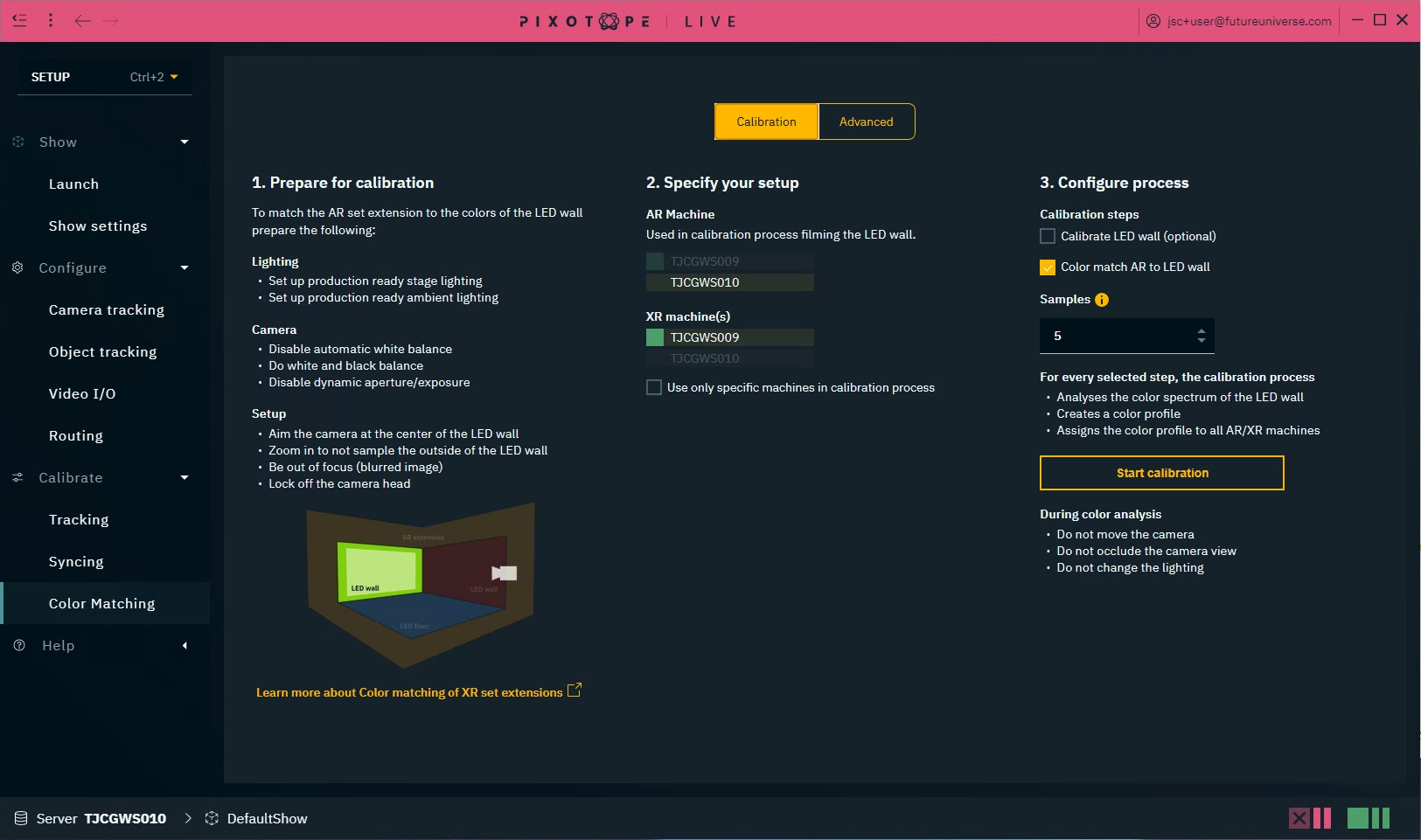 Calibration
Prepare for calibration
For the calibration to be as accurate as possible make the following preparations.
Lighting
Set up production ready stage lighting

Set up production ready ambient lighting
Camera settings
Disable automatic white balance

Do white and black balance

Disable dynamic aperture/exposure
Camera setup
Aim the camera at the center of the LED wall

Zoom in so the camera frames only the LED wall

Be out of focus (blurred image)

Lock off the camera head
Show settings
Compositing color space needs to be set to Linear space in SETUP > Show > Show settings.
Color grading
3D Graphics

Video

Final output

XR machines

OK, if color grading is the same across machines.

Not applicable

Not recommended

AR machines

Not recommended

OK
Specify your setup
Select the main AR machine

This machine will be used in the calibration process filming the LED wall

Select your XR machines

These machines will be used in the calibration process for displaying. To only use specific machines during the calibration process, enable the checkbox below and select a subset of machines.
The generated AR color profile will be automatically used by any machine running AR

The generated LED color profiles will be assigned to the selected XR machines
Configure process
Specify which calibration steps you would like to run (see below)

Set the sample number of the profile

Larger values can improve the result, but they increase the time for analysis significantly. Higher quality LED walls require fewer samples. Values between 7 and 15 usually give good results.

Start the calibration
Calibration steps
Calibrate LED wall

optional

Analyses the color spectrum of the selected LED wall

Generates LED color profile

Assigns it to all XR machines

Color match AR to LED wall

main step

Analyses the color spectrum of the selected LED wall

Generates AR color profile

Stores it in the show file where it gets used by all AR machines
During color analysis
Do not move the camera

Do not occlude the camera view

Do not change the lighting
Possible warnings during color analysis
Message

Suggestion

Could not determine the display's latency

Ensure that the camera is aimed at the display properly and that a valid video signal is present.

Detected latency is X frames

This happens when latency is more than 30 frames.

Consider checking the delay values in Director and that the camera is aimed at the display properly.

CAUTION camera exposure too low

Increase camera exposure and restart calibration.

CAUTION color gamut clamp

Check the color format to match the LED's wall gamut capacity and restart calibration.

CAUTION sync issue during calibration

May happen on temporary higher latency (e.g. high GPU load in Editor).

Check your setup or enable +15 frame delay option and restart calibration
After color analysis
Making changes to, for example, the video white point should be done through the Color grading panel and not on the camera itself
Advanced
The advanced tab allows to manually reassign the generated