Views - START, SETUP and PRODUCTION
Pixotope Director is designed with a virtual production workflow in mind. It is built around the main steps, which are shown in the interface in 3 views. These can be switched in the left side menu:
using the dropdown

using Ctrl+1, Ctrl+2, Ctrl+3
or can be cycled through using Ctrl+Tab (Shift+Ctrl+Tab).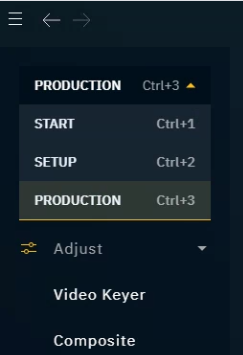 START view
Create, open and manage shows

Change machine role and other machine specific settings
SETUP view
Change project link and other show settings

Do an initial push/pull of your project to sync all the machines

Configure and calibrate your camera tracking systems, video inputs and outputs, and color matching

Launch levels and create custom control panels
PRODUCTION view
Push changes to your project and auto-pull them on the other machines

Launch levels and control panels

Adjust the video keyer, composite, effects, color grading, XR and/or every single object in your level

Control your running levels using custom control panels
The Help and Diagnostics sections are available in all views.