Pixotope Director - Interface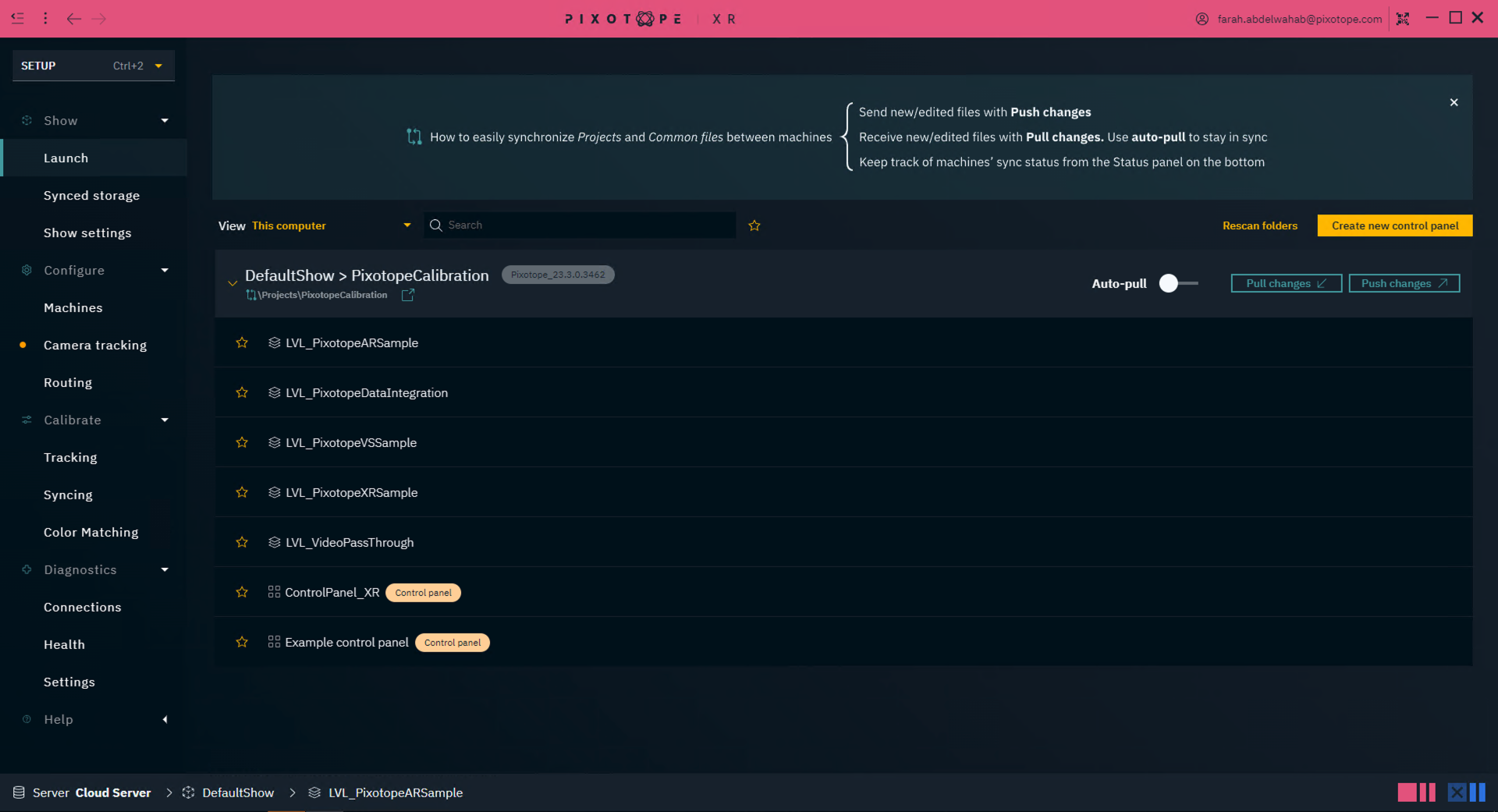 Left side menu

The menu on the left is divided into 3 different views which are based on specific steps in a production:
The START view is used to create and open Show files, and handle your specific machine settings

The SETUP view is used for setting up camera, tracking, video, and all other inputs and outputs for your open show

The PRODUCTION view is used for adjusting running levels and also controlling them through your control panels
Show/Hide menu
The visibility of the left side menu can be toggled by
clicking on Show/Hide menu icon (all the way to the left) in the header

OR pressing Ctrl+/

reducing your window width to 725px or lower (around a quarter of a standard desktop monitor's size)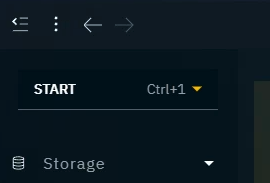 Panels - main area
Via the left side menu you get access to a number of different panels:
Common panels in all views
Help
Documentation
Provides a link to our online documentation at → https://help.pixotope.com and an option to download it as a PDF.
FAQs
Links to our Frequently Asked Questions on → https://support.pixotope.com
Report issue
Opens a form which will create a support ticket.
View tickets
Links to the Support section of the → Pixotope Cloud
Give feedback
Links to our Share your feedback form on → https://www.pixotope.com/feedback
Diagnostics
Connections
Test the network connection strength of all your connected machines. We don't recommend doing this while running live productions, and as such is hidden in the PRODUCTION view.
Health
A live table of parameters to monitor your connected machines' health. Keep track of in hardware temperatures, frame rates, and more. Needs access to your local Windows diagnostics service. With an active videohub connection, you can manually failover to backup machines.
Settings
Settings related to the Health panel, namely setting custom warning & critical parameter thresholds. If your production uses a Blackmagic Design Video Smarthub, you can manage the videohub's routing of main and backup machines.
Status bar/ Status panel

The Status bar is at the bottom of the screen
shows all connected machines and the status of their main services

Engine

Asset Hub

Tracking

VideoIO
Click the Status bar to show more details. The status panel shows
all connected machines

if multi-machine syncing is enabled

the state of their primary and secondary timecode sources, allowing to

grab a timecode sample by clicking on it

grab and hold to grab continues timecode samples

shows all running levels, allowing to

close and reload levels

enable/disable Pixel Streaming

shows all running main services, allowing to

restart and stop the main services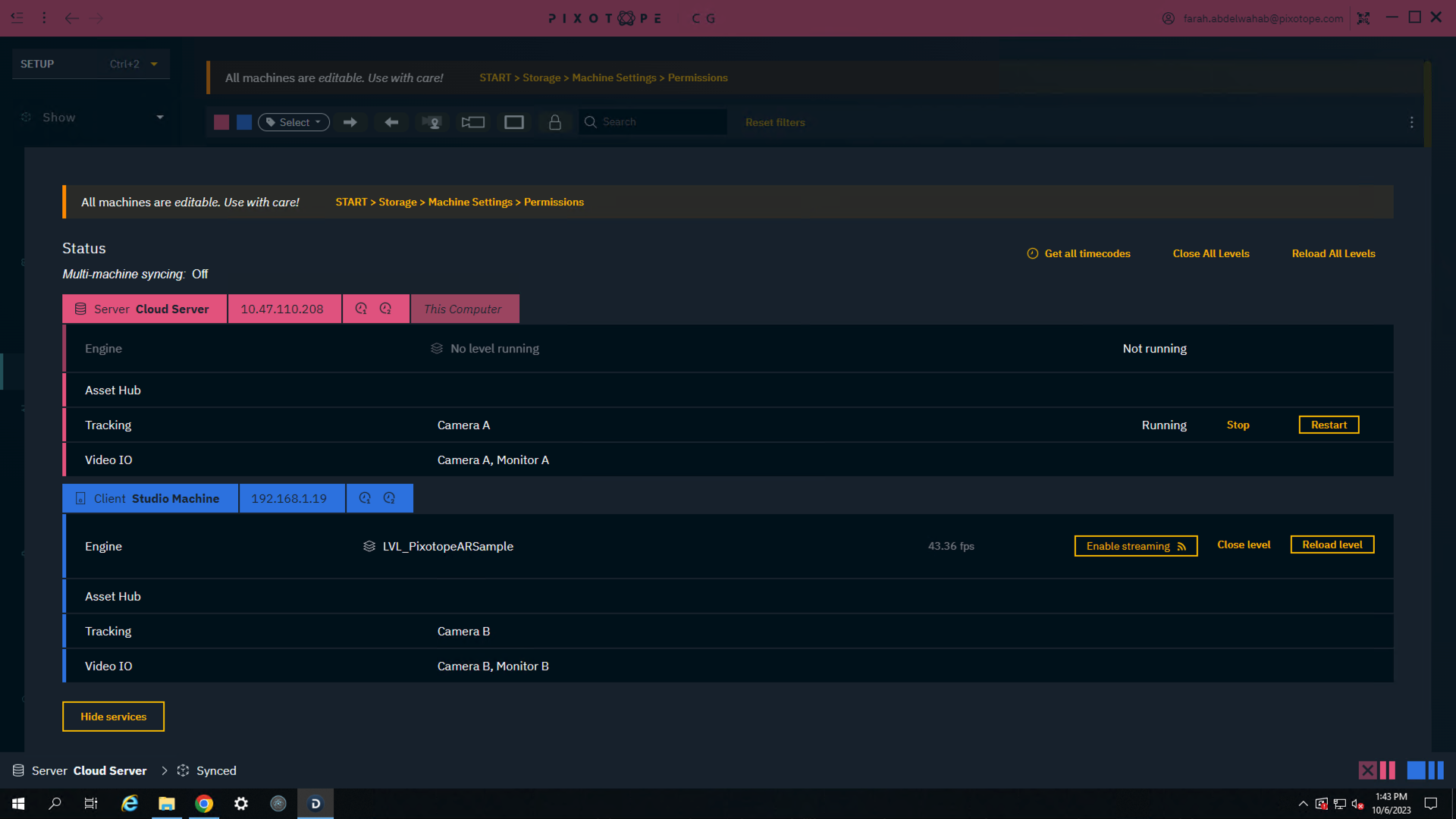 User menu

The user menu can be accessed by clicking the username in the upper right-hand corner. It provides:
License information:

Access to your user account on Pixotope Cloud

The option to log out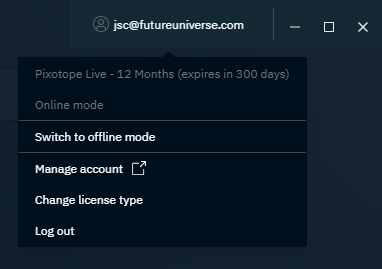 System buttons
With the system buttons in the top right the window can be
minimized

maximized

closed

opened in the browser

Windows menu

The Windows menu, accessed from the three vertical dots in the upper left-hand corner, provides access to:
File options:

Open a new Director window

Quit Director

View options:

Toggle full screen

Toggle left side menu

Zoom controls

Help options:

Above mentioned Help options

End-User license agreement (EULA)

Privacy Policy

Subscription agreement

About Director

Pixotope version