Creating a control panel - PRODUCTION
Pixotope allows you to create custom remote-control panels, which run:
in a web browser on your Pixotope network
You can control:
all properties and functions of Pixotope Engine objects

all aspects of Pixotope Director which are controlled via the Pixotope API
Want to give feedback?
This is another step on the journey where we would welcome your input and thoughts. If you are interested in giving feedback, sharing your use cases or contributing in general, we would love to invite you to our Control Panel slack channel! Just send an email to design@pixotope.com
---
Academy Tutorial - User configurable control panel
Introduction to our new control panel
---
Create a control panel
Go to PRODUCTION > Show > Launch

Click "Create new control panel"

Give it a descriptive name

The control panel is opened in your default browser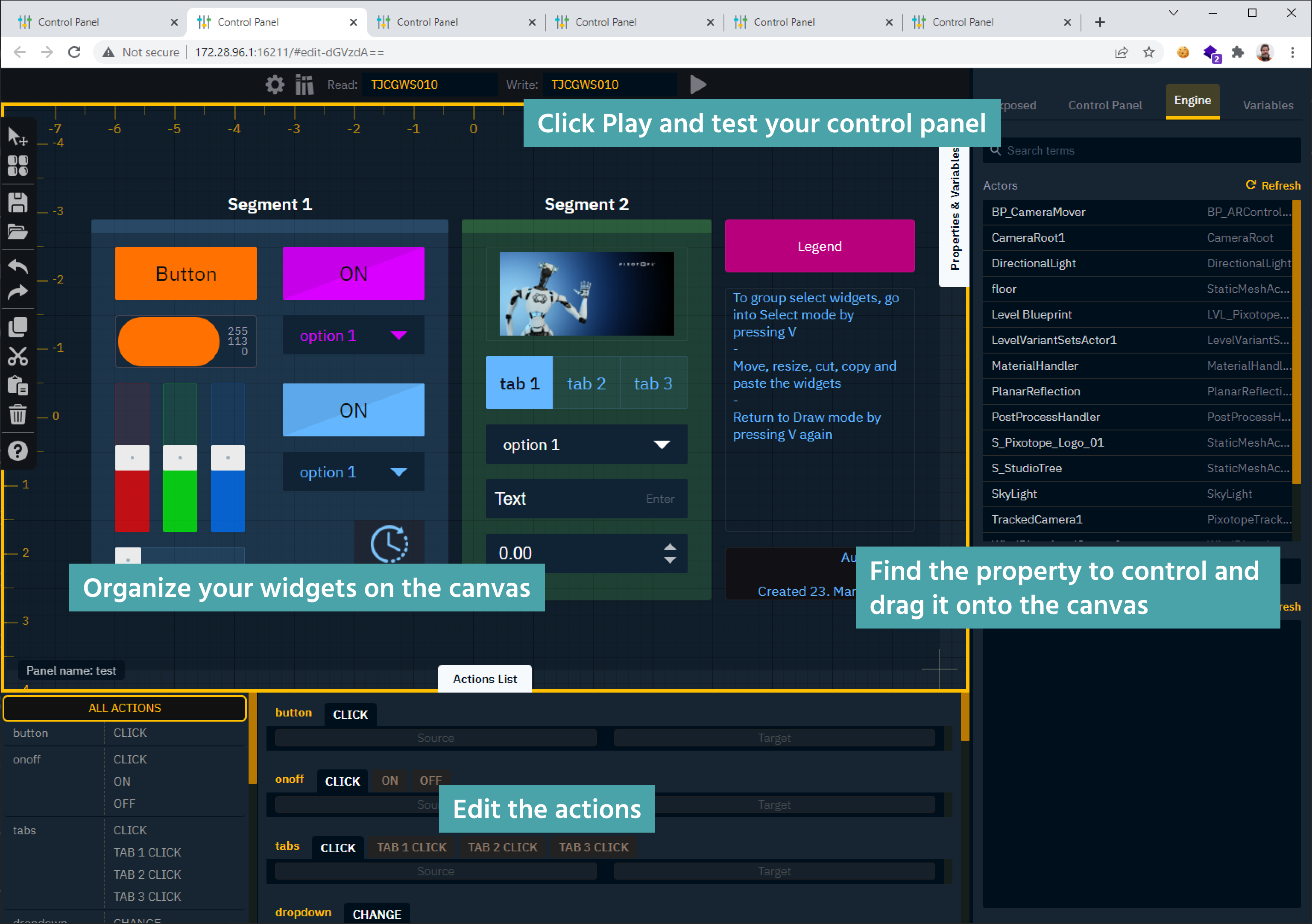 Open a control panel
Go to PRODUCTION > Show > Launch

Hover over the control panel you want to open and click "Launch panel (Editor)"

The control panel is opened in your default browser
Duplicate, Rename, Delete a panel
Use the overflow menu to duplicate, rename or delete a control panel.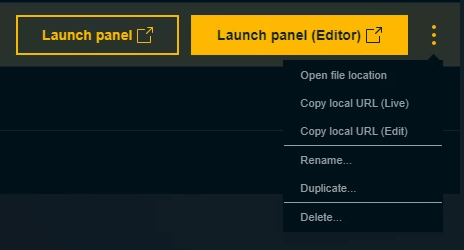 Every control panel is stored in its own folder together with potential image assets.
Find the property to control
Link the property to a widget
Edit and layout widgets
Go live
Save a control panel
Click on the save icon in the shortcuts bar on the left
OR press Ctrl+S
To avoid losing data
we store the 10 last saved versions in a Version history, which is accessible via the history icon in the header

we warn you before you close or reload the tab

we try to recover the last unsaved version in case Director, which serves the page, crashes
Preview Live mode
Press R or the "Play" button in the header

The yellow border is removed

The canvas is centered

You cannot add or move widgets
This mode allows you to continue editing the widgets properties and actions.
Click on the Settings icon in the header to open the Control panel editor settings

Enable "Show Drawers on Run mode"

Click "Apply"
Exit Preview Live mode
Press R or the "Stop" button in the header
Live mode
This mode removes any ability to edit the control panel including switching between Edit and Preview Live mode
Click on "Launch panel" from the Launch panel in Director