Getting started with Pixotope
---
Academy Tutorial - Getting Started
Learn how to launch a project in Pixotope and configure a basic camera & routing for your Virtual Production.
---
Learn how to do a simple virtual studio production using:
1 tracked camera

1 computer

1 Pixotope AR/VS or XR license
Schematic

Camera system

Camera

The captured video comes in via

SDI into the video card

or NDI through the network card - What is NDI?

Signal gets keyed or just passed through into the Pixotope Engine

Camera tracking system

Tracking data comes in through the network card

Tracking service translates the data and sends it to the Pixotope Engine

Pixotope Engine applies the physical camera conditions to the virtual camera

The rendered virtual scene gets merged with the real scene

The scene gets output through SDI or NDI

Pixotope Director is the main software you interact with for configuring, adjusting and controlling your show

It can be used locally or remotely

It controls all aspects of Pixotope

Pixotope Data hub

It handles the communication between all Pixotope services and all Pixotope machines. See multi-camera setup.
Example projects using Pixotope
Pixotope lets you merge the real and the virtual world, in real time and in perfect quality.
To see what Pixotope has made possible, visit pixotope.com
Or try it out yourself and download our example projects.
Checklist
The machine is set up

Network card(s) is/are installed and configured

Graphics and videoIO cards are installed and they use the required drivers - See system requirements

The physical camera is set up

The tracking system is set up

A user account with a valid AR/VS, XR license is available - Manage users and licenses

Pixotope is installed - Install Pixotope
Start Director
The Pixotope Director is the main interface for setting up, adjusting and controlling a Pixotope production.
Start Director

Log in

Choose a AR/VS, XR license

Choose a Stand-alone or Server role

Create a new show from an existing project or a template
Set up your first show
Edit your show settings and configure and calibrate your camera systems, media in- and outputs and object tracker groups
Add a camera system

Configure camera tracking

Configure video inputs and outputs

Configure routing

Calibrate tracking

Calibrate syncing
Prepare a simple VS level
For a virtual studio, we need to place the talent in our 3D environment.
Film the talent with a tracked camera in front of a green screen

Position a compositing plane in the virtual studio

The video is projected onto the compositing plane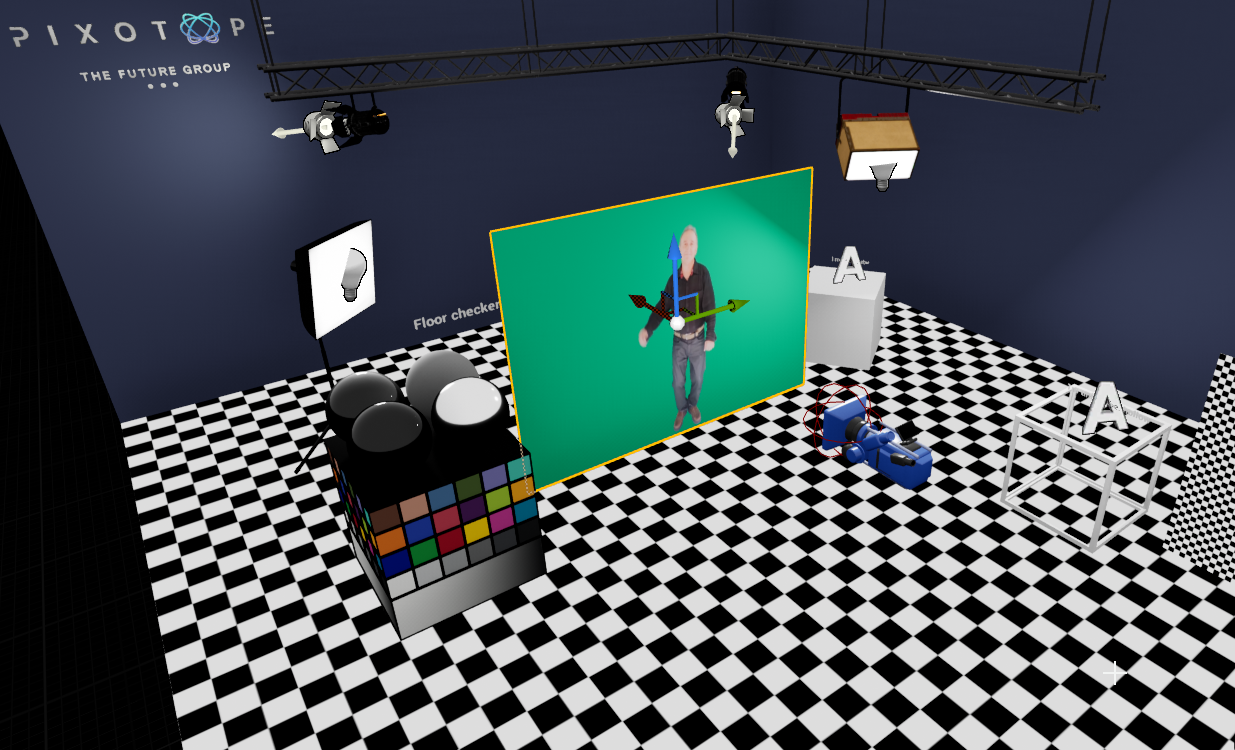 Make adjustments
To perfectly composite video and 3D graphics, use Pixotope's adjustment panels.
Key video
Pixotope's video keyer is an easy to use real-time chroma keyer which is used to key video inputs.
Select the camera system you would like to key

Initialize the key

Refine the key
Adjust compositing
Adjust how video and 3D graphics are composited together.
Adjust effects
Optionally you can add camera effects.
Adjust color grading
Adjust the color grading of your 3D graphics and video so the sources match. Optionally you can color grade the final output.
Create a simple control panel
In the Editor: Expose the properties you would like to control

Create a new control panel

Create a trigger widget

Add a target action

Save your control panel
Run live
Launch your level in LIVE mode

Use the control panel to control your level
Data integration and API
Use external data in your Pixotope levels or drive the production with external controls.
More
Find additional information here: